My Mission
"As a Wealth Management Advisor, it is my mission and sole purpose to help individuals and business owners become better educated, organized and prepared for the financial situations they will face. This focus on purpose allows me to lead those I serve to become more clear and confident that their financial goals and objectives will be met by the actions they are taking today."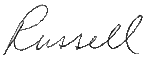 -Russell Stehling
Russell Stehling's Approach
It all begins with an in depth discussion about what you care about, your goals and objectives for your family or your business and continues with a detailed analysis and educational explanation of your options to achieve your goals. You see, your definition of financial security is as individual as you are and our process is designed to discover how we can align your vision for your future with the actions we take today.
Building Relationships
Russell Stehling, CLU®, ChFC®, CASL®, CLTC knows the importance of building long-term relationships with his clients and is committed to providing the best products and services to meet his client's needs.
Whether you are concerned with providing for your child or grandchild's college education, accumulating sufficient assets for your retirement, out-living your resources, protecting your family or business from the unexpected or transferring your wealth to the next generation, Russell Stehling, CLU®, ChFC®, CASL®, CLTC will work with you to help ensure your financial security needs are met. Russell Stehling is proud of his existing relationships and looks forward to building many more.
Getting To and Through Retirement
Many people are focused on saving a certain amount for retirement but don't think about what they're going to do with that money once they reach retirement—to make it last as long as they do. The strategies you use to get to retirement are not the same strategies you'll need to make sure your money lasts through retirement.